HAHN ULTRA – Silver Effie 2017 from Ken Buchan on Vimeo.
How do you Launch a beer with virtually no alcohol? It's not easy, especially when we Aussies love to catch up over a beer with mates, bond over it, celebrate and socialise with it as part of our culture.
It was a challenge so big it was immortalised in pop culture with the launch and immediate failure of Duff Zero. So how on earth were we going to launch a low alcohol beer in the real world?
Our research showed us that the much loved 'beer with the boys' occasion was under threat as they were reducing their beer consumption, switching to soft drinks or just leaving for home early. Aussie beer drinkers were also openly rejecting the ultra low alcohol beer category, they laughed at the suggestion with a "No thanks, what's the point?"
Despite these perceptions and in a declining beer market, Hahn created a new Ultra Low alcohol beer. A breakthrough innovation in Australian brewing. A beer with just 0.9% alcohol and just 0.2 standard drinks.
So how do you launch a product so openly rejected? We set the bold vision to make beer the go-to choice for Aussie males to stay at the pub, whatever the occasion. Our disruptive thought was that we realised we weren't competing against other beers but against soft drinks or going home early. Our product benefit of just 0.2 standard drinks, meant that you could always choose beer.
So we came up with The 0.2 ADVANTAGE and gave our creative a cheeky, confident, full-strength tone of voice, which highlighted the key moments to choose beer.
Our sampling strategy was also disruptive, we spoke to people at moments when they normally couldn't have a beer, mid-week when at work. We even interrupted them when doing a spot of lunchtime shopping where our new beer was well received.
We demonstrated our 0.2 advantage by putting it in the hands of our customers in a way no other beer could, creating sampling experiences in office block foyers, in malls and at times of the week when moderators aren't thinking about beer and gave them vouchers driving them off into store.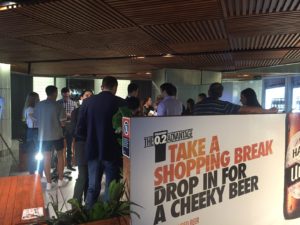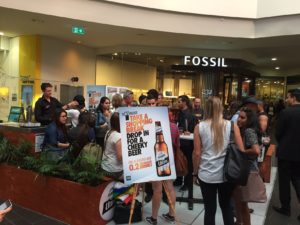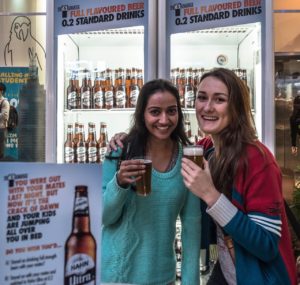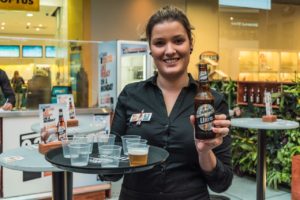 Hahn Ultra beer trolleys and promo staff greeted workers in 66 CBD office foyers across the country. They received a full bottle of beer on their lunch hour with a neck tag explaining the 0.2 Advantage.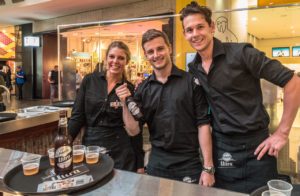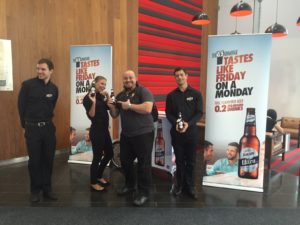 Our Final sampling numbers went through the roof: 6010/4500 = 133.5% of KPI achieved.

Against all odds, the press world also caught on and our PR campaign generated 67 pieces of PR editorial coverage with 93% positive sentiment.
And we smashed our targets:
Total Litres sold was 43% above target.
And we achieved a massive 75% market share
of Ultra Low beers, growing the whole Ultra low category by 480%
But most importantly we kept Aussie blokes together having beer.
What could be better than that?
Winning a Silver Effie!
Finally, you can't launch an ultra-low alcohol beer in the manner we did without every team member, from our highly supportive client through to our samplers on the ground believing in what we were doing and how we were approaching it. The continuity of the campaign and its rollout was a testament to this.